About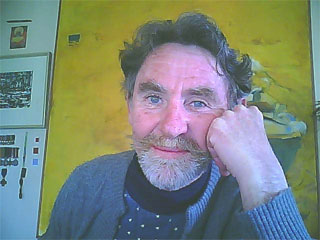 Dermot John Seymour B.A. DipEd. Macquarie University 1969-1973
b. London 1951 –
Dermot is a self-taught, award winning artist. Since 1980 he has held many exhibitions in four Australian states.
His oeuvre reveals an eclectic range of medium, subject matter and style. For the past decade however, he has worked almost exclusively with the watercolour medium, in his persistent pursuit of conveying spiritual inference.
Dermot also creates sculptures and remains since adolescence, a prolific poet.
Since moving to Canberra in 1992, Dermot has conducted painting and drawing classes for adults at several campuses.
His paintings hang in private, corporate and public collections in many countries and have been featured on record, book and magazine covers.
Artist's Statement
"Creative expression is for me, a vicarious effort to share both commonality and difference. It is an attempt to honour the presence of a shared consciousness. There is a place where everything is up for grabs, with multiple juggling-balls mid-air. It is a vital place where total freedom permits exploration of unlimited zones of imagination. Since childhood, this process has been entrancing and alluring.
Artistic expression has been a doorway to escape the mundane sense of self. Absorption is innately pleasant. I like it there, where Tao remains passively active, where Everything remains possible and where, in the light of hindsight, I barely existed.
Given that anything and everything may be considered inspiring, my response is varied. In the apparent absence of a Universal Law of Everything, I can see no other response or outcome.
The pursuit of simplicity amid complexity is ongoing."